HAPPY INDEPENDENCE DAY! :) Well, if you`re in America. In honor of it, I will post a blue colored food! Even though the holiday isn`t until tomorrow, if you`re planning anything, you`ve probably made your list of what foods you`ll be making already. But, if you haven`t decided on what to make for breakfast...these will be amazing!
You know why?
Because this recipe is from
Joy the Baker
`s new
cookbook
! It`s on my wishlist! Along, with many many others!
(Joy adapted this recipe via The Gourmet Cookbook.)
I love sharing my experiences with recipes, even though I haven`t altered them in any way--thus, linking the recipes. The reason? Well, I started this blog to chronicle all of my baking experiences so I can always come back and see what I really liked, or if something was just okay. I also know that sometimes not all recipes work. So I also want to tell you guys whether or not a recipe is a success! I`ve only been baking for about 2 years, so I am totally a noob. If I can do it, you definitely can too!
Anyways, in this case, this recipe was DEFINITELY a success! I love these blueberry muffins. I shared it and it was gone wayyy too quick! I was almost sad. LOL. These are BEAUTIFUL looking muffins. Hey, they look and taste delicious! Great for the summer. :)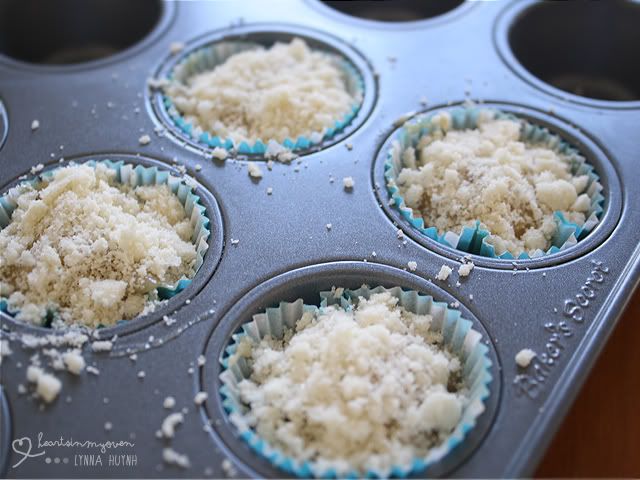 You all must know, blueberry muffins are probably my favorite muffins EVER. I`ve eaten all sorts of them. ♥ So, please forgive me if I post more than just a few recipes. *puppyeyes*
I made these using fresh blueberries and you can totally tell that they`re fresh when you bite into them! I love the topping especially! But, they crumble, so make sure you`re not eating these on your bed! Hehe.
Have a good holiday guys!
Browned Butter Blueberry Muffins
Yields: 12 Muffins + 4 Mini muffins
Level: Easy
Total Time: ~35 minutes
-
Small pan (To make brown butter)
-
Small bowl (For the topping)
-
Medium bowl (For flour, sugar, etc)
-
Large Bowl (For milk, egg, batter)
-
Ice cream scoop/Large spoon (to scoop batter into muffin pan)